HP Printer Repair Service in NJ & NY [4 Hours Fix]
When your printer refuses to print, your business can come to a standstill. That's why you need Advanced Business Systems' same day, on-site repair services for HP printers. As an authorized HP PRINTER REPAIR center, we offer affordable yet expert services to clients in New Jersey, Pennsylvania, New York and Delaware.
Not only are we masters of on-demand HP PRINTER REPAIR services, we also offer routine maintenance packages with cost-effect service contracts. We can resolve any developing hardware issues before they become serious. This will reduce the chances of costly and extensive repairs that can decrease the life of your printer. In fact, we offer this solution for copiers and other multi-functional devices as well. To ensure our clients have well maintained machines at all times, we inspect each machine at regular intervals.
Keep your HP printers working seamlessly for years with regular and thorough maintenance.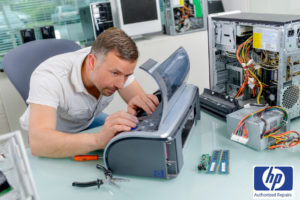 Get HP PRINTER REPAIR Service in 4 Hours!
At Printer repair Nj, we believe that our clients shouldn't have to lift a finger. That's why when you call us, we send our best technicians within 4 hours and they'll have your printer up and running in no time.
We don't just repair printers – we use our knowledge and experience working on a variety of document management systems to resolve common and complex issues. This includes replacing printers that are damaged beyond repair due to accidental spills or electrical surges. We know the machinery and the brand inside and out so you can trust us to recommend replacements that can facilitate all your document processing needs.
Our familiarity with the printers allows us to isolate and resolve issues within reasonable timeframes. Whether you face issues with your HP printer routinely or they crop up every once-in-awhile, temporary fixes will only make things worse.
Our trained and experienced technicians will determine the cause of the failure after a thorough examination of your unit and ensure that the problem doesn't reoccur.
Save Time, Money and Resources
We also offer and recommend our regular maintenance services to make sure that you don't have to face a printer failure. During our onsite services, the technicians will determine any printer issues and fix them right away. This includes changing copier and printer settings or updating drivers so that you can get more out of your machine.
Simple HP Printer Repairs and making adjustments can save you hundreds in overhead costs, and you can rest assured that our eagle eyed and experienced technicians will catch all issues. We take immense pride in our customer service. Whether your HP printer needs a quick fix or a complete re-haul we will commit our efforts 100%. In fact, we will also show you how to keep your printer running optimally after repairs are done so that you can resume business without delays.