HP Printer Repair Service in NJ & NY [4 Hours Fix]
An authorized HP Printer Repair Service Center that provides best and affordable Printer Repair Services to the clients based in NJ, NY, PA & DE.
If you're facing trouble with your HP printer or copier, don't look anywhere else but Printer Repair NJ. We respond in a fast and dependable way to perform HP printer & copier repair services.
Our Mission: "When speed is essential to get the printer up and running, replacement may be quicker than repairs". Thus, we can install replacement printers, copiers or any other office equipment. If we cannot repair the printer on-site a loaner machine will be installed until repairs are performed.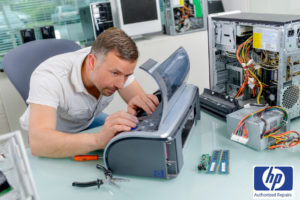 Factory Authorized Service Center Near You.
Printer Repair NJ is one of the best HP Printer Repair depots to get your printers fixed. Our technicians serve the whole Northeast and Mid-Atlantic regions in a fast, courteous and professional manner. HP Certified Field Service Technicians who are trained on specific HP printer models and possess superior technical skills. Each and every one of our printer repair technician is skilled and fine-tuned for all printer models. By dispatching these specialists we ensure that your equipment is properly maintained and repaired with minimum downtime.
Highly Qualified Technician Dispatched in 4 Hours
We can dispatch Certified printer technicians to your location with fully stocked Service Vehicles. These technicians will arrive within 4 hours to perform printer repair anywhere in New Jersey (NJ), New York (NY), Pennsylvania (PA) and Delaware (DE). Our first-time fix rate exceeds 90%, so your printer will be repaired on the first visit most of the time.
These highly qualified technicians visit companies of all sizes in a timely manner, usually within 4 hours. Printer Repair NJ is able to maintain and repair a wide range of commercial and business imaging equipment. With each visit, your equipment is tested for full functionality before the technician leaves your site.
All of our printer repair technicians are experienced and fully dedicated, they work passionately and they know what they are doing. Our Service Team members objective is to provide our clients with the most comprehensive list of predictive printer diagnostics, maintenance, and repair services presently available.
On-site HP Preventative Maintenance & Printer Repair
On-site HP printer repair and preventative maintenance are offered as needed. Also, you can purchase monthly contracts to cover your entire repair and maintenance needs. Preventative printer maintenance decreases the number of major printer repairs and increases the life expectancy of your HP printers. We suggest this type of practice in order to maintain the performance of your printers, copiers, and plotters.
When was the last time your printer received a thorough inspection and cleaning? Most problems can be avoided with regular printer cleaning.
Sometimes, your driver could be the reason for printer issues, make sure to update your HP Drivers regularly.